All church services have been canceled until further notice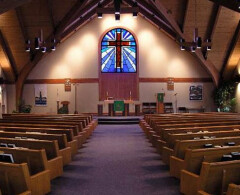 Please click on each week to see the order of worship and information in our bulletin for our Sunday Services
Bulletin
ORDER OF WORSHIP
March 22, 2020 - No order of worship
Due to COVID-19 all in person worship has been canceled. We will stream via facebook live an abbreviated service starting on Saturday March 21st at 2 p.m. and will have the video available on our website shortly there after.
OUR CHurch has three worship services:
Saturday evening starting at 5:00 p.m.
Sunday morning at 8:30 a.m. and 11 a.m.
Each service runs about an hour.
HOLY WEEK AND EASTER WORSHIP SERVICES
"

TENTATIVELY PLANNED"
THURSDAY, APRIL 9
6:30 p.m. - Meal in the Upper Room
8:00 p.m. - Maundy Thursday Worship
FRIDAY, APRIL 10
10:00 a.m. - Cross Walk in New Lenox (starts at St. Jude's)
12:30 p.m. - Cross Walk in New Lenox (starts at St. Peter's)
7:30 p.m. - Good Friday Worship Service at Peace Church
From after worship until 9:00 p.m. - Good Friday Vigil at Peace
SATURDAY, APRIL 11
5:00 p.m. - Easter Eve Worship (transition from dark to light)
SUNDAY, APRIL 12
8:30 a.m. & 11:00 a.m. - Communion Festival Worship
9:45 a.m. - Easter Breakfast